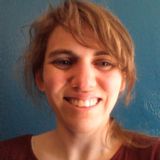 Wendy B
Ambitious homeowner over her head in yard revamp.
Gardener Job in Kearns, Utah
I bought a house with a weed/dead plant yard that drained into the basement. I've killed everything and did a lots of releveling and need help beating the weeds to fill the yard back in. I am looking for a partner in this project. I have a vision of what I want, but not the energy, time, or focus to finish it on my own. I'm looking for someone who doesn't mind working alongside the client, is willing to try unorthodox things (but also tell me I'm crazy if you know something I don't know--I love plants, but I'm still learning), and can help me organize the process (I tend to hyperfocus on tiny areas and lose the big picture or be inconsistent with watering and stuff). My main goals for this growing season is to finish planting an alternative groundcover lawn, get some vines growing over a large geodesic dome, fill in a hillside with native (mostly anyway) drought-tolerant perrenials, and install some edging around the planting beds. I can pay $10/hour. I wish I could pay you more, but I have a very small budget. Hopefully it will be a little be fun? We can take time to take good before and after photos for a portfolio or whatever if that would be helpful to you.
Share This Profile
Find Gardener Jobs in Kearns, Utah
More jobs in Kearns, Utah