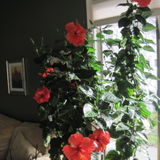 Donna P
I love plants, indoor and out, and BOTH my thumbs are green.
Reasons to Hire Me
My love for plants is second to my joy in making them thrive
Gardener in San Diego, California
I want to work for people that are seeking a personal gardening service. Not cutting lawns but nurturing plants and making their gardens a haven, a place of joy, beauty and repose. I will provide specialized care for plants and trees-indoor and out. I will come to your home and do an assessment-free of charge-and let you know what I can do to improve or enhance your garden(s). I can also help w/ general care and maintenance of house plants and vegetable gardens, as well. I have 35 years of plant and gardening experience and I am currently working at a local nursery. ***I am adding a plant sitting service to my list of plant care services. Go away with confidence and peace of mind in the knowledge that @plantsitterssandiego will care for your indoor or outdoor plants. Fear no more that you will return from a trip to sad, or worse, dead plants. Leave them in the hands of plant care professionals with 40 combined years of experience. We can can be contacted at-
[email protected]
or through Housesitter.com (our moniker there is KD Jones) or thru
[email protected]
Recommendations
Melissa Yates
We found Donna on MeetAGardener.com when we were looking for someone to take care of our plants and fruit trees. We wanted someone who would really care about our plants and make them look beautiful and healthy. A lot of gardeners just want to get in and out quickly with doing minimal effort. Donna puts so much care and love into gardening and it is so apparent in the work that she does. She has a great knowledge of plants and if she doesn't know something she is very eager to research and learn so she can look after your garden the best she can. She gave us clear suggestions on the things we should do now and seasonally in the future for each plant, and options to be as hands on or off in our garden as we would like. She looks after our garden as is if it is her own. We are so happy we found someone to care for our plants, and will definitely recommend Donna to anyone in the future.
David Francis
It's a true pleasure for me to highly recommend Donna P as a personal gardener. Donna has been lovingly caring for my property and it's many plants, trees and shrubs for over 15 years now and I could not be more pleased with how my garden looks. I've lost count on how many neighbors, friends and total strangers who walk by my house and comment on how lovely and lush everything looks. All credit goes to Donna P and her amazing gardening talent. She is absolutely gifted with her ability to take a sad plant that most people would toss aside and bring it back to glorious life. Donna is also affectionately know as the "Orchid Whisperer" for her incredible talent of bringing "dead" orchards back to bloom beautifully and consistently. I could not be more pleased with Donna P and the excellent job she has done with my garden and I highly recommend her services for all your garden needs. 5 Stars *****
Francesca Kelly
Donna is a gem, not only for her knowledge and gardening acumen, but as a professional and ethical individual. She always goes the extra mile- a seeming whirlwind of energy deftly combining the art of gardening with the science. I recommend her without reservation.
Share This Profile
Find Gardener in San Diego, California
More in San Diego, California