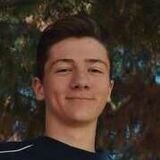 Calvin J
A young plant enthusiast who can watch your plants while you're away!
Reasons to Hire Me
I am super resilient and creative!
I am super familiar with rare and common houseplants alike!
I can find what is plants are best for your busy schedule!
Gardener in Gilbert, Arizona
My main service is watching, pruning, and caring for houseplants and some outdoor plants. I am a plant enthusiast, mainly specializing in houseplants. No matter what kind you have, I will do my best to research and give your plants the best treatment! I am willing to repot, stake up, and trellis your indoor and outdoor plants. Making your plants look nice is also part of my job! As long as materials are provided, I will stake up or tie plants to fit your space. I am also confident in my ability to recommend types of plants specific to your interior space. While outdoor plants are not my specialty, I would be glad to maintain your yard by fertilizing and pruning plants on the exterior of your home. I can also recommend some types of plants for the space you would like to create when choosing varieties for your yard. I would love to keep your plants alive while you are on a trip (or if you just don't have time to maintain them). I am located in Gilbert, AZ, and my times and payment are flexible. As the summer months approach, the weather will kick up and plants will start to flourish again, so if you need any help, give me a call and I would be happy to help. I am rarely busy, especially over the summer break.
Share This Profile
Find Gardener in Gilbert, Arizona